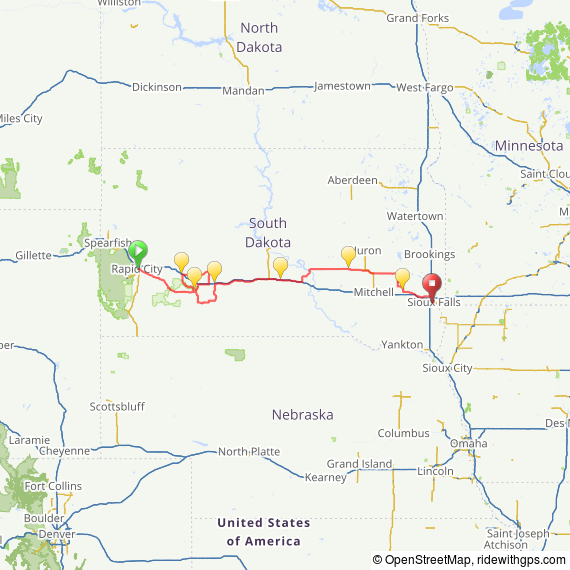 ---
Day 1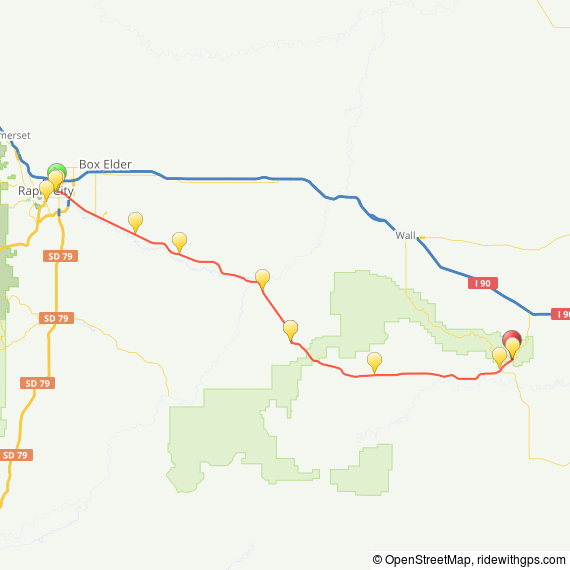 We will be leaving Rapid City, and the beautiful Black Hills, and will be biking to another famous SD attraction, Badlands National Park. Along the way we will pass through such iconic towns as Scenic and Interior. Some Rasdakians may feel a case of Déjà vu as this route is the same one that RASDAK took in 2014, and the same groups will be hosting our stops again.
---
Day 2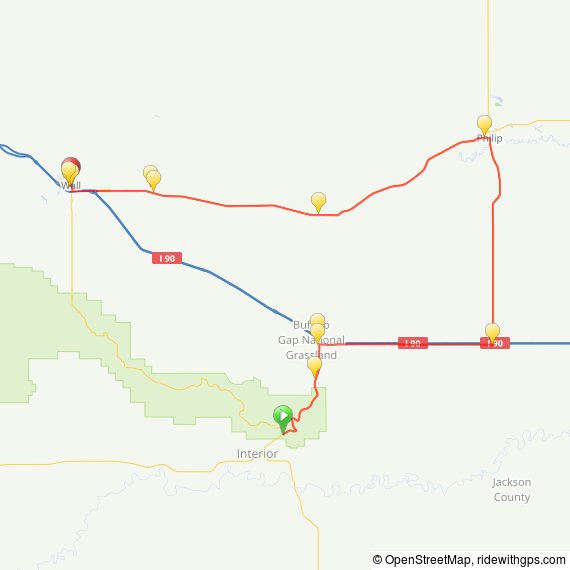 Our destination today is the home of another famous SD attraction, Wall Drug. Along the route we will see other SD attractions:the Prairie Homestead Sod House,  Minuteman Missile National Historic Site and the Badlands Observatory.  We will also be revisiting some other towns from RASDAK's past, Phillip and Quinn.
---
Day 3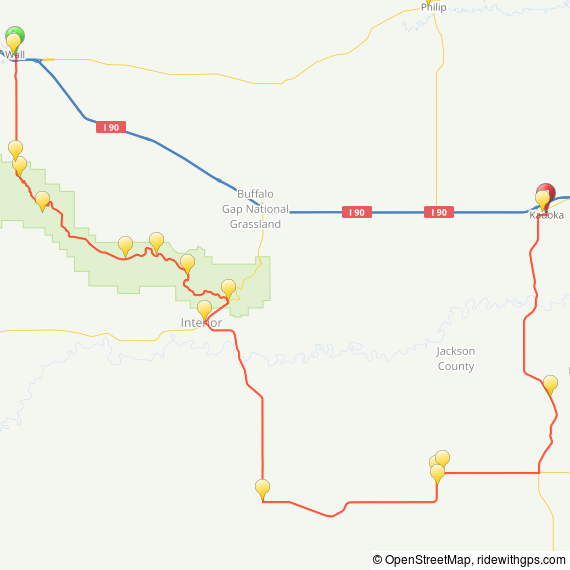 Today we will ride on two of the most popular highways to see the Badlands. We will start by riding the scenic loop through the Badlands National Park. Then journey through the northern part of the Pine Ridge Indian Reservation past the historic Eagle Nest Butte. Nearby is the town of Wanblee, named after the nearby butte, where Rasdakians will once again enjoy food served by the Wanblee Volunteer Fire Department. We will finish our route into Kadoka on highway 73, for one last spectacular view of the Badlands.
View route on Ride with GPS • Day 3 optional shortcut route
---
Day 4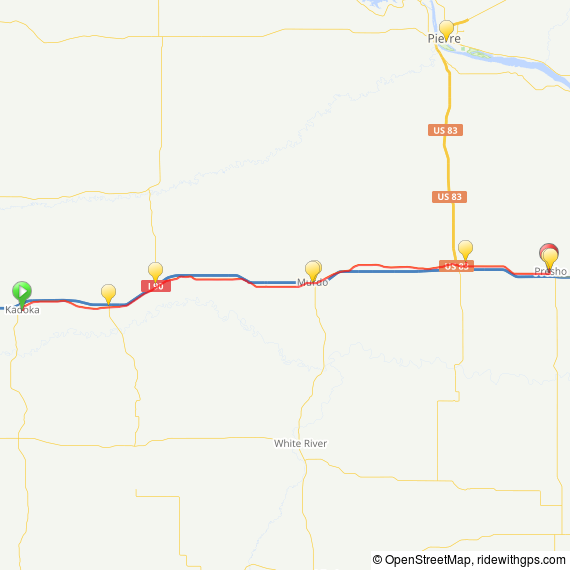 We travel today along old highway 16, visiting Belvidere, Okaton, Murdo (Senator Thune's home town), Draper, Vivian and arriving in Presho. Along the way we will see well know SD attractions the 1880 town and the Pioneer Auto Museum.
---
Day 5
Today is our Missouri River day and it is also the day we visit the Lower Brule and Crow Creek Reservations.  For those wanting to do a century ride, and see more of the beautiful Missouri River, the route will take you to Lower Brule. There you can visit where Lakota Popcorn is grown and processed. You can also visit the Narrows Historical Interpretive Area and stand where Lewis and Clark did as they surveyed "Big Bend". On the way back you can take a break at the Golden Buffalo Casino in Lower Brule. The route crosses over Big Bend Dam where you will enter the Crow Creek Indian Reservation and pay the Lode Star Casino a visit. After that it's on to Wessington Springs, which overlooks the James River Valley.
View route on Ride with GPS • Day 5 Century Route (100 miles)
---
Day 6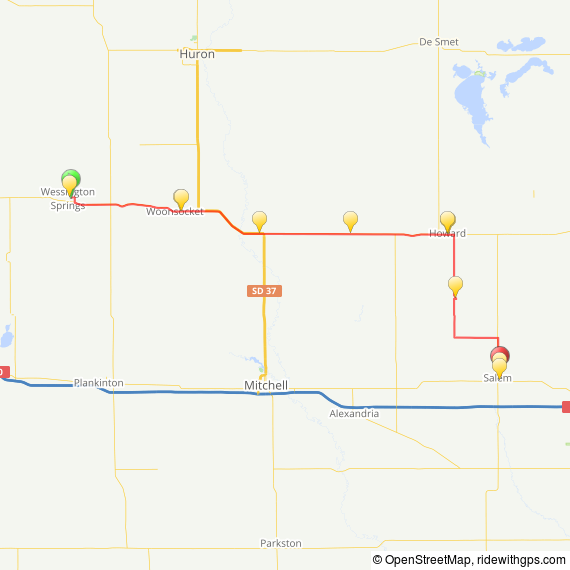 We will be enjoying the small towns of the James River Valley. Woonsocket, then on to Forestburg, melon capitol of SD. From there we will pass through Artesian, Fedora and then onto Howard which was a favorite of Tour deKota riders. We will venture south with stops at Canova before we arrive in Salem.
---
Day 7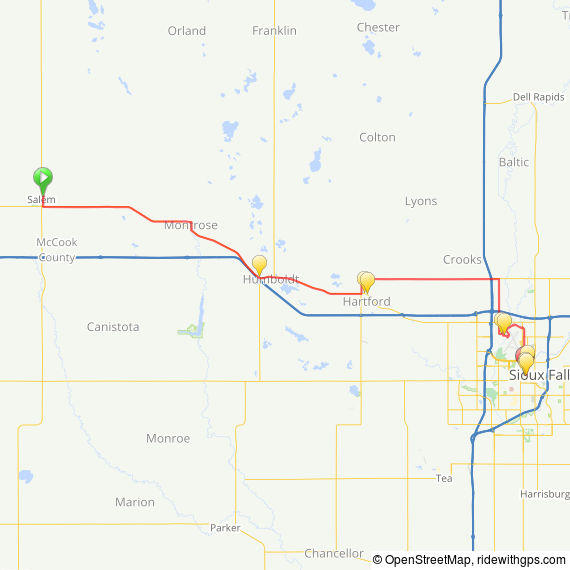 Shortest day of the week on our way to Sioux Falls. We will be making stops at Montrose, Humboldt and Hartford before arriving at the Sanford Sports Complex. Here we will get on the well know Sioux Falls Bike trail which will take us past Falls Park, before we arrive at Cherapa Place to celebrate our journey across the state of SD.